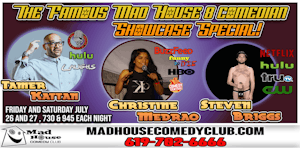 Tamer Kattan
Steven Briggs, Christine Medrano, Dave Callans, Adam Connie, Vince D'amico
It's the Famous Mad House Comedy Club 8 Comedian Showcase Special with Tamer Kattan, Champion of the World Series of Comedy and more!
It's the Famous Mad House Comedy Club 8 Comedian Showcase Special with Tamer Kattan, Champion of the World Series of Comedy, as seen on HULU and Laughs on Fox. Christine Medraon from Comedy Central, Funny or Die, Buzzfeed and HBO. Steven Briggs as seen on Netflix, HULU, TruTv and The CW. Plus at least 5 more amazing comedians!
Tammer Kattan
Tamer began his comedy career in Los Angeles and New York, but very quickly began to tour internationally. His over-seas experiences include tours for the troops in Afghanistan, performing at the American University in Cairo (during the Egyptian revolution) and the Edinburgh fringe in Scotland, where he received three 4 star reviews from international press. Towards the end of 2013, he moved to London for one year of international road work across Europe. Tamer was most recently featured on Seth Rogen's Hilarity for Charity event with Todd Glass and Hannibal Buress, won the 2015 World Series of Comedy, in 2017 won his episode of Comedy Knockout on truTV and has TV & Radio credits on BBC and SkyTV in the UK as well as in the U.S. on Fox, HULU, HGTV & truTV.
Tamer Kattan was born an outsider and that's where he stayed. An Egyptian-born American dropped into a family of Muslims, Christians and Jews, left him incredibly comfortable in the uncomfortable. From school yard bullies to an abusive father, comedy quickly became a weapon of this underdog. A multi-award winning international comedian with TV and commercial credits in the United States and UK, Tamer has a uniquely deep understanding of the human condition. Tamer is a regular at the Comedy Store, Improv and Laugh Factory in Los Angeles. This is one comic you do not want to miss live.
Christine Medrano
Christine Medrano is a tiny stand up comedian who was born and raised in the cold streets of Winnipeg, Manitoba, and could best be mistaken for a Canadian Dora the Explorer. Her humor is what happens when a mixed race woman grows up in the suburbs while attending 14 years of private Catholic school. Her thoughtful, reflective and self-deprecating comedy is anchored by her boundless energy.
A unique point of view has helped make her a finalist for Sirius XM's Canada's Next Top Comic, a feature at the Laughing Skull Comedy Festival, and an opening act for Maria Bamford. She has appeared in numerous videos for Cracked, Buzzfeed, Refinery29, Funny or Die, Comedy Central and All Def Digital, and featured on HBO's Entre Nos: Part Four in 2018 and in the upcoming Wanda Skykes new series for Epix Unprotected Sets.
She appears regularly as a crew member on the Youtube show Good Mythical Morning (15 million subscribers) and her short film which she stars and co- wrote with fellow comedienne, Teresa Lee, debuted at Outfest Fusion and will be making its New York Premiere at the Tribeca Film Festival this coming spring. She currently lives in Los Angeles.
Steven Briggs
Steven is an LA based comedian, writer & actor. In addition to his international touring schedule for Stand-up, he regularly shoots sketch comedy for his YouTube channel, which has grown exponentially in the recent years, with videos grossing over 100k views. He has just returned from his 5th tour performing for the US troops in the Middle East and has also recently been featured on TruTV's Laff Tracks, Hulu's Coming to the Stage, Jokesters TV on the CW and is slated to appear on a new Netflix show this year. His album, Whiskey Dick, can be found on iTunes.
The World Famous Mad House Comedy Club
Full Bar, Craft Beer, Dinner Menu. We sere food and drinks before, and during the shows. 18+, Two item min purchase per person (food or drinks - does not have to be alcohol).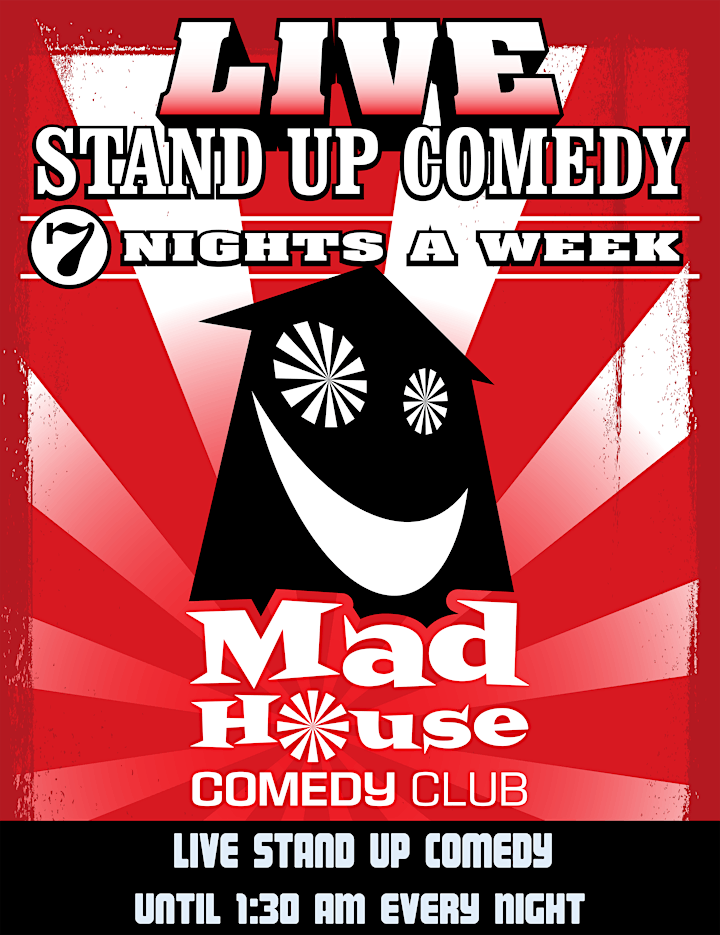 Venue Information:
The World Famous Mad House Comedy Club
801 4th Ave
Historic Gaslamp Quarter
San Diego, CA, 92101
https://www.eventbrite.com/v/mad-house-comedy-club-2147